A Review of 4 Moving Truck Rental Companies,
U-Haul, Discount, Budget & Enterprise.
This summer, it's estimated that around 4 million Canadians may move home. Indeed, 1 in every five people moves home every year, with the average number of lifetime moves being around 11! Three-quarters of movers these days are "do-it-yourselfers" with the prime reason being cost.  DIY moves can cost less than half of the hired company moves. I'm sure you can see why it's, therefore, important to find a DIY truck rental company that is both cost-effective and with everything that you need.
We've spent a long time carrying out research on the best truck rental services out there today in Canada. With each of the companies that we have researched, we considered their truck availability in terms of sizes and types, the locations of their rentals, what additional extras and services were included as well as their customer reviews.  Have a look at our table for a quick summary of the information about each of the four truck rental companies that we looked into before delving into our detailed reviews.  Whether it's a pickup for moving, a utility trailer rental, or a cargo trailer rental, these four truck hire companies will have something to suit any need and budget.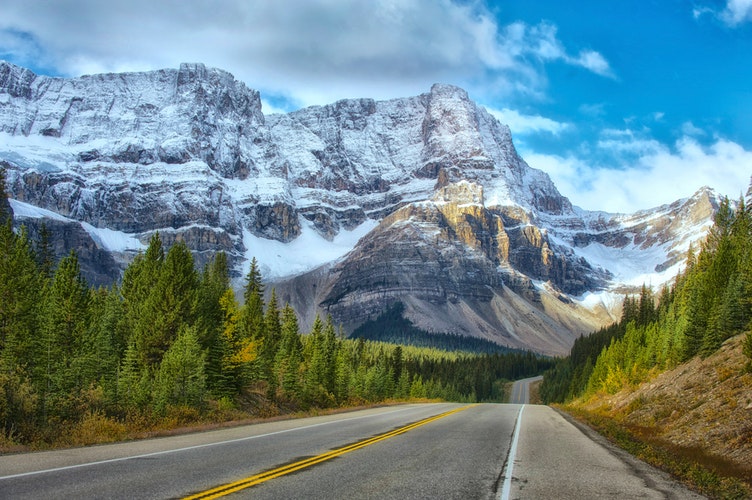 U-Haul Truck Rental - The complete 2019 review.
Description
U-Haul has been established since 1945 believe it or not!  U-Haul was borne out of the need for moving equipment on a do-it-yourself basis. After World War II, there needed to be a network whereby people could move equipment across the nation. The original founders' vision shared the ownership costs with many people, which allowed the many people of the US and Canada to move things much more freely. The really were the industry's pioneers.
Today, U-Haul works to affirm their self-storage and self-move business in order to improve the quality of life of the DIY moving public.  They have the largest fleet of rentals in the self-moving industry.
Your address change in 5 minutes.
Change your address with up to 500 service providers and government agencies. It's free!
Offering
U-Haul offers a vast array of truck sizes and options, which is more than most other rental companies. The smallest U-Haul moving truck is 10 feet, with the largest being 26 feet.  There are also three sizes in between this, at 15', 17' and 20'. They also have pick-up trucks, cargo vans and U-Haul trailers if you have a smaller than average load.
All of the U-Haul truck rentals have low loader desks, making it easy to move your possessions and the majority of the trucks seat three adults in the front. The trucks that are at least 15 feet long also have a "Mom's Attic" compartment above cab, which is perfect for the transportation of fragile items.  The trucks are economic with fuel and have a fuel economy indicator so that you can monitor the fuel that you use.
U-Haul also loans car carriers and tow dollies too. These are trailers with either two or four wheels, enabling you to haul your own vehicle behind the truck whilst you are moving your belongings. You can even tow your car with the smallest of U-Haul's trucks.  Lastly, U-Haul offers one-way rentals, which makes sense when you tend to move things just one way when you move home!
Prices
Let's have a look at an example of hiring a truck to move from Halifax, Nova Scotia to Mont-Tremblant, QC (1 360 Km). This is a journey of around 1086km and 11 hours of non-stop driving. It is worth mentioning that these prices do not include refueling during the journey or any increases in the cost of the protection plan.
| | | |
| --- | --- | --- |
| U-Haul Truck Size | Home Size | Cost in $CAD |
| 10 Feet | Studio or one-bedroom apartment | $918 |
| 15 Feet | one- to two-bedroom apartment | $967 |
| 20 Feet | two- to three-bedroom apartment | $1063 |
| 26 Feet | three- to four-bedroom home | $1208 |
For comparison, let's have a look at renting a truck from Toronto to Ottawa:
| | | | |
| --- | --- | --- | --- |
| U-Haul Truck Size | Home Size | Cost in CAD | Included |
| 10 Feet | Studio or one-bedroom apartment | $887 | 541 km, 2-day rental |
Inclusions and Exclusions
In addition to the services explained above, U-Haul also offers the possibility to hire moving blankets and a hand truck for heavy pieces of furniture. They also have moving boxes available too. Both of these are at an additional charge.
One important thing to note with U-Haul is that your reservation is guaranteed, which isn't something that all self-hire truck services include.  Indeed, if U-Haul doesn't manage to provide your truck for whatever reason, the company will give you $50!  Likewise, if anything happens with your truck while you are moving, there's a free phone number to call to request 24-hour roadside assistance.
Reviews
As the reviews state, U-Haul is great if you're located rurally thanks to their thousands of locations. This also makes it easy for one-way transit too. On the www.move.org website, U-Haul's official rating is 3/5 stars whereas on www.moving101.hirehelper.com they had an average rating of 4.18/5 (and there were 2468 reviews too!) with a rating for local moves being 4.34/5 stars, which is pretty impressive!    The negatives that are mentioned in reviews are that the base price quote is rarely what you will end up paying as you will need to add on extras such as Damage Protection, gas refill and taxes.
Location
U-Haul has the largest network of self-hire rentals across the whole of the North American continent. Indeed, they have more than 20,000 different locations throughout all 10 Canadian provinces and the 50 American states! It's therefore easy to find a truck in your location, even if you're based rurally.
Discount Truck Rental - The complete 2019 review.
Description
Discount is Canadian-owned and operated, and proud of it too. The company was created by Herb and Rhoda Singer in 1980 in Ontario. It is still run by the family today and it is the only car and truck Rental Company nationally that is owned and run by Canadians. They offer rents for commercial businesses as well as leisure renters, services for dealerships and temporary replacement vehicles for collision repair centers.  Their mission is simply to do whatever is required to provide a rental experience that is second to none, every single time. Lastly, they also support community initiatives such as Road Hockey for Conquering Cancer and Habitat for Humanity.
Offering
Discount offers a range of vehicles to suit every person's need. They have a multitude of vans available for hire: GMC, Dodge, Ford Transit, Sprinter, Promaster, Extended, High Top, Diesel as well as 12 and 15 passenger vans.  All of these have rear and side access and can hold a capacity of 1900kg in weight. The 12' cargo vans also have a sliding side door.  Next, they offer pick-up trucks. Their fleet has half, three quarter and one-ton pick-ups that suit many jobs. They can be customized depending on the client's needs.  Lastly, they rent out trucks. They have cube trucks in addition to 26 foot/5 ton and 20 foot/3 ton trucks. They suit all kinds of moves and can hold a maximum of 3500kg. Discount also have refrigerated trucks for hire too. I'm sure you'll agree that, for all of your moving needs, there's a Discount moving truck to suit you.
Prices
Let's have a look at some of Discount's prices.
| | | | |
| --- | --- | --- | --- |
| One-Way | Cargo Van | Cube Van | Included |
| Toronto > London | $95 | $120 | Collision Damage, 300km, 1-day rental |
| Toronto > Ottawa | $255 | $300 | Collision Damage, 600km, 2-day rental |
| Toronto > Calgary | $1860 | $1950 | Collision Damage, 4500km, 7-day rental |
Inclusions and Exclusions
As the above table shows, a collision damage waiver is included with all rentals from Discount. However, taxes, airport surcharges and tolls are excluded from the price quoted.
Reviews
The company have mixed reviews online and, as such, average at around 3 out of 5 stars on sites such as www.reviewsii.com.
Locations
Discount truck rentals has over 300 locations across Canada. Whilst this cannot rival some national and international companies, it certainly is a lot, enabling you to be able to have Discount rent a truck in just one direction.
Budget Truck Rental - The complete 2019 review.
Description
Budget Trunk rentals operates throughout Canada and is a subsidiary of the incorporation Avis Budget Group Inc. This explains why national representatives always send inquiries directly to your local dealer for information. The company is relatively new, only dating back as far as 1998!  Over in the US, a Budget moving truck even played a part in the 2000 presidential elections between George H.W. Bush and Al Gore. It was a Budget Truck rental that transported the famous ballots from Palm Beach up to Tallahassee which decided the election's result. The company actually sold the truck later and donated the proceeds (all $88, 500 CAD of it!) to the American Red Cross.
Offering
Budget is known mainly for their car rentals but they do have moving truck rentals too. They offer a range of vans, trucks and pick-up vehicles for hire, in addition to people movers. They also offer towing dollies and moving supplies, should you need those too.
Prices
Budget's website seemed cumbersome to navigate when trying to get a quote for a 10-foot cube van. Indeed, in all the locations and dates we tried, we couldn't find one available. We did find a cargo van, which for our invented journey from Toronto to Ottawa would cost around $152.  This doesn't seem a bad price at all. What sets Budget apart from other hire companies is that they offer promo deals regularly so you can snap up a bargain.
Inclusions and Exclusions
Budget's price does include all taxes and fees. However, it does not include and Personal Accident Effects or Loss Damage Waiver. You can add on an additional driver, should you wish, and they also charge to hire a GPS navigator. Moreover, their roadside assistance is chargeable too. Of course, fuel is not included, but they do have the possibility of setting up a fuel plan for you, which helps. Finally, they do offer help with loading and unloading but, again, at an additional cost.
Reviews
Let's have a look at what people have said about Budget Truck rentals. Firstly, they've said that their customer service is friendly, and the website appealing. There are also lots of promos and deals which will mean savings for the customer. You can also hire a vehicle on the same day, should you wish. However, on the negatives, their insurance options are a little confusing and it's difficult to find information about the safety of the vehicles. Finally, the website, although nice-looking, was difficult to navigate and make a reservation for when we tried. There was a slow loading speed too!
Locations
Budget does have locations in all Canadian provinces but when we were trying to select a truck, it was proving difficult to find a truck that we wanted on a specific date in a specific location. Of course, we could have just been unlucky! They are a much smaller company than others, and newer too, and therefore have fewer locations than some other truck rental companies.
Enterprise Truck Rental - The complete 2019 review.
Description
Enterprise provides rental trucks with a high level of service. They claim to have competitive rates, outstanding customer service and a great selection of truck rental vehicles. Their vehicles can be rented daily, weekly or monthly.  
As a company, Enterprise goes all the way back to 1957 as a car rental company with just seven cars, based in St. Louis, USA. At its beginning, the company simply leased cars, rather than renting them, but in 1962, Jack Taylor, the company founder, realized that many were needing to rent a car. Twelve years after its launch, it began trading under the Enterprise name and expanded beyond its one location. By 1993, it had gone international by opening the first office in Canada, in Windsor. At this stage, the company had over 200,000 rentals in 1500 locations. Today, there are more than 7,600 locations worldwide, spanning 85 countries. The Enterprise truck rental division is relatively new compared to the car rental side of the business.  
Enterprise is looking to help the environment too. They have pledged to plant over 50 million trees in the next 50 years. Additionally, since 2015, its shuttle vehicles are run on clean fuels.
Offering
Enterprise offers a lot of choice in the moving truck rental field. They have a range of pick-up trucks, flat decks, cargo vans, high roof cargo vans and cube vans. They also provide moving equipment such as moving pads, cargo straps boxes, stretch wrap, tape, and hand trucks. They have a great range of trucks, and there is an Enterprise moving truck out there that suits most needs and budgets.
Prices
Enterprise offers a range of options to suit all movers. We couldn't find a price for a cube truck rental as you need to call the company to find out pricing for this. But, the cost of a two-day rental of a cargo van came in at $205.86. This included a 400km limit. There are also daily fees and mileage fees to consider for the larger trucks, but for smaller vehicles, this is included so long as you don't go over the limit.
Inclusion and Exclusions
For larger vehicles, there are added mileage fees and daily fees, but these are not included if you hire a smaller vehicle. However, be sure to read any small print carefully as there is a vehicle license fee as well as another fee for adding on another driver.
Reviews
The reviews of Enterprise are largely positive, particularly for local moves. There are many affordable truck options and there's a simple cancellation policy too. On the negative side, there are additional fees that may mean you end up paying more than you anticipated. Additionally, there's not a lot of guidance about which size truck would suit your move best. Finally, and the biggest sticking point for us is that they do not offer one-way rentals and you must return your vehicle to the pick-up location. This is difficult if moving far away, but for local moves, is not a problem at all.  Despite all of this, they rate really highly with their customers.
Locations
Although Enterprise doesn't have as many locations as some companies, they do have 62 locations across Canada, covering all ten provinces. And, if you're moving long distance, it doesn't matter if there's a depot in each place because you'll be unlikely to select them due to their lack of ability to facilitate one-way rentals.

Conteneurs de déménagement
Best Moving Container Companies in Canada – Find the perfect moving and storage container near me. Whether you are moving to the other side of town or across the country, finding the right company to store
Read more »
Check out MovingWaldo's free moving platform and find everything your need for your move. No sign up required!